If you run an e-commerce business or any kind of brand in a competitive market, then you understand just how difficult it is to convert traffic into profit. With that in mind retargeting ads is one of the best ways you can bring existing traffic back and also reach new audiences that are similar to your existing audience. Retargeting ads are a highly effective way for you to capture customers that are already interested in your product, service, or brand.
By putting a portion of your marketing spend toward retargeting users that have already shown interest in your company, you will be able to capture more conversions at a lower cost than trying to reach brand new users.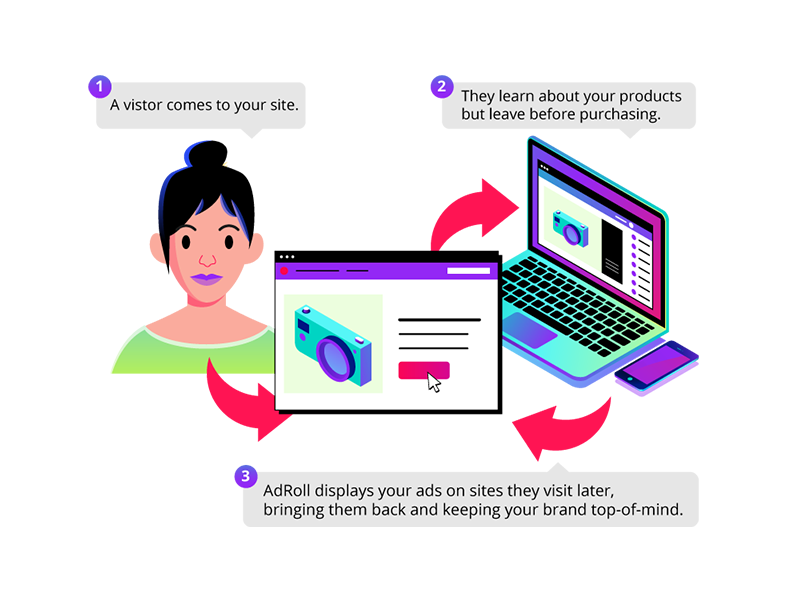 How Does Retargeting Work?
Retargeting is the process of reaching users that have engaged with a website or brand in some way with content that's relevant to the user at that time. The goal of the content is to increase your brand's reach, trust, recall and guide the user to the goal conversion (ie. Email Sign Up, Form Fill Out, Purchase) In order for us to use retargeting ads we need to know who we are targeting, why we're targeting them and where our Ads will be placed. With this knowledge, we can tailor the content to users based on the action's, they've taken on the site. One of the best ways to do this is to outline the buyer's journey and compare that to the path users are currently doing on the website. By visualizing and comparing the journey a user takes, we can understand why our users are dropping off and what content should be pushed to them. When retargeting is executed correctly it can be a huge driver for consistent growth and become a solid foundation for businesses to expand from.
One example where retargeting does very well is the checkout pages on an eCommerce site. The checkout pages are often one of the best and easiest places to get started with retargeting because these users have shown a high level of interest in the product/service. Often the users that left the checkout pages we're distracted or didn't like the shipping costs. In order for us to target these users, we need to create audience lists that users fall into when they don't complete the checkout process. 
Note: when building custom audiences it's best practice to create multiple audiences based on both the target action/page and the amount of time that's based since the action or page.of time-based filters. A common example of this is when we want to target a user that left the cart page five different audiences and test what amount of days from leaving the cart page is most profitable. The six most used day based filters are 1,3,7,14,21, and 30 days by using these to further segment your audience you can find what amount of time from a specific action is most profitiable. 
From there we create a campaign with each of our audiences and place them into their own ad group with branded abandon cart ads. When an abandon cart campaign is executed correctly, a website can see massive increases in the number of sales because it targeted the right users at the right time with the right offer.
Creating Custom Audiences That Convert:
As we had just shown in the previous example retargeting based on actions or events are great ways to get the most out of retargeting campaigns. Thankfully, creating custom audiences isn't hard but it takes time to make sure you're granular enough to weed out non-relevant traffic.
To recall from a previous example, the audience has already shown interest in buying but hasn't committed yet because they'd left the checkout page without purchasing. We can target all of the people that have left the checkout pages, with either event tracking (Pixel Data) or we can target based on pages visited. By following either of these processes we can segment our users further and find the highest converting audiences and get the most from our campaigns.
Note: Make sure the names of these custom conversions make sense. You'll want to know what your custom audience is related to so you can find it easily when creating your campaigns.
Good Example #1: All Users > Initiate Checkout > No $$$ > Past 14 Days
Good Example #2: Top 25% Users > Initiate Checkout > No $$$ > Past 30 Days
Each site has slightly different custom audiences based on their goals but, it never hurts to have a go-to list for getting started. To make life easier we've created a list of our go-to custom audiences for all forms of retargeting. Better yet, many of these audiences work great for all platforms (Facebook Ads, Google Ads, and Google Analytics); however, some audiences are meant to be used only on social media, based on the actions that can be tracked on the platform. With this massive list of go-to custom audiences, there is no doubt that there is a winning audience in here for your business.
Best Practices For Setting Up Retargeting Campaigns:
In order to crush it with retargeting ads, it's important to have a basic process that's easy to follow and built to scale. Often campaigns are created for short term only the goals of the business and not built for long term success. With our easy to follow campaign set up process, you'll have a go-to method for creating campaigns that makes finding winning ads and long term optimization a breeze.
High-Level Review Of Set Up Process:
Naming Campaigns & Ad Groups

Choosing A Conversion Goal

Creating Ad Groups

Putting Ads Into The Campaign
Naming Paid Ads Campaigns & Ad Groups:
One of the first steps in creating a high performing campaign is to use follow a clear campaign naming structure. When campaigns are named correctly, it makes optimizing the campaign easy because it quickly explains the goal of the campaign, thus saving by not having to dig into old excel sheets to see why it was created. Although naming a campaign is a simple process, when done correctly and consistently it will help you spend less time in the ads manager more time focused on other aspects of marketing.
Basic Campaign Naming Process:
Agency Or Company: (AD LABS | Company Name) 

Campaign Ad Type: (Display | Shopping | Search)

Campaign #: (This helps when there are multiple campaigns with the same goal running)

Campaign Goal: (Brand Awareness | Lead Generation | Cart Abandonment | ETC)

Target Group: (Cart Abandonment | Past Purchasers | All Visitors | Cold Traffic | ETC)

Device Targets: (All Devices | Mobile Only | Desktop Only | Tablet Only)
Example Of A Properly Named Campaign:
AD LABS | Display | Retargeting Campaign #1 | Visited > MP Event Sales Pages | Mobile Only
How To Name A Campaigns Ad Groups:
Campaign Ad Type: (Display | Shopping | Search )

Campaign Goal + #: (Brand Awareness | Lead Generation | Cart Abandonment | ETC)

Target Group: (Cart Abandonment | Past Purchasers | All Visitors | Cold Traffic | ETC)

Device Targets: (All | Mobile Only | Desktop Only | Tablet Only)

Ad Group # (AG 1 | AG 2 | AG 3)

Campaign Content Types Used: (Image | Video | Image + Video)
Example Of A Properly Named Ad Group:
AD LABS | Display | Retargeting Campaign #1 | Visited > MP Event Sales Pages | Mobile Only | AG 1 | Image + Video
Choosing The Campaign Conversion Goal & Budget:
When you building your campaign it's important to understand the end goal and how much you should be putting towards that goal. The vast majority of retargeting campaigns will be focused on either Website Conversions or Catalog Sales. The budget for a retargeting campaign should be based on how big your audience because you want to be spending enough to reach as much of your existing traffic without quickly exhausting the list. We often see that companies with 1k-5k in monthly traffic should be spending at least $10-30 perday on each campaign to see results in a fairly short amount of time and not exhaust the audience with the same content. 
Website Conversions: The conversion objective on Facebook is used to get people to take a specific action on your website, such as a purchase, adding items to cart, or downloading your mobile app.
Catalog Sales: If you choose "Promote a product catalog" as your Facebook advertising objective, you will be able to create dynamic ads, ads that advertise products from your product catalog.
(If On Facebook) Turn on CBO or Campaign Budget Optimization: 
With CBO being the new standard now for Facebook ads, your campaigns will automatically optimize your spend to target the highest performing Ad groups. While Campaign Budget Optimization can automate some of the optimization processes, this means you should have a more careful eye on where your spend is going. This is because sometimes Facebook will stop putting spend behind a campaign before it's even had a chance to run its course. With the CBO strategy in mind, it's important to breakdown your ad groups so you can force your spend to go to the best ad groups if CBO isn't doing so automatically.
Ad Group Planning And Strategy:
When planning out ad groups, consider who and where you're targeting. When we set up ad groups, we segment the ad groups in two ways: the audience and device used (mobile, tablet, desktop).
With this in mind, we might have two ad groups for one audience, targeting mobile and desktop users separately to determine which device best engages the audience. This strategy allows us to quickly optimize campaigns and drive spend to the ad groups that bring the best results.
Putting Ads Into The Campaign:
Once our ad groups have targeting set up, we can begin adding the images or video content we will use to promote our businesses product/service. Depending on the campaign, we can use dynamic ads or the many variations of standard ads. The most significant difference between these two options is that dynamic ads automatically show the user content based on the products or pages they have viewed whereas a standard ad is static and unchanging unless altered by us. We always recommend testing as many ad variations as possible so that the winning ad type and offer can quickly be found.
After we've created all ads and have reviewed all of the steps in the campaign, we're ready to publish our campaign and get it up and running. The next step in the process requires some patience; but, once we begin seeing results we can start to use our data to optimize our campaigns for long term success.
Want to learn about how to quickly and easily optimize your marketing campaigns? 
Take a look at our Top 4 Campaign Optimization Strategies for improving the success of your campaigns..
Interested in us helping you crush it with paid advertising? 
We're always looking to help businesses improve their digital presence and performance. We'd love to talk with you and see if we'd be a good fit. To schedule a free consultation…